Welcome to the Kirby Fan Fiction Wiki!
This is a Kirby Fanon Wiki that anyone can edit!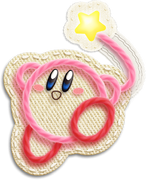 ☆ About ☆
This wiki is a wiki for Kirby Fanon things. Note that none of it is real and we are not trying to trick you into thinking it is real. This wiki includes fan games, roleplays, fan abilities, fan characters, and all kinds of fan ideas, whatever you want! New members are always welcome. So if you have some things to jot something down, please, come and join us! Spread the word as well. Something you can do that would be greatly appreciated is to try to clean up spelling/grammar that does not look right, as it is a big help for the Fandom! If you have to share for the wiki, tell us on the talk page! You can navigate the wiki using the top navigation above.
Currently, there are 1,251 cool and creative articles! Please, no many useless articles that don't have anything to do with the Kirby series or themes that are too dark for a series like this. Swearing and inappropriate things is also prohibited. Please note that we do not tolerate vandalism, harassment of any kind, and most of all, severe negative comments on any page/article/file.
Have fun!!
☆ Staffs of the Wiki ☆
If you have any questions, contact us below
☆ Messages ☆
There is currently none important at the moment.
Community content is available under
CC-BY-SA
unless otherwise noted.