Pop Star has a wild amount of food. Some seem to be borrowed from Earth. There are also some types of food that the citizens of Pop Star make themselves. Here is a list of Pop Star's original and maybe tuned up Earth foods.
Breakfast Foods
Edit
Kirby's Gourmet Breakfast
Edit
Kirby one day wanted to make his own food. This is the result. Kirby made a pancake shapped like him, filled it with cream, then put it in a breakfast sandwich consisting of a egg, cheese, ham and sauce, the buns are biscuit halfs that are buttered, Kirby is the only one who knows about these special breakfast foods made by him.
Lunch Foods
Edit
Dinner Foods
Edit
Candy Stars
Edit
Candy Stars are shaped like Warp Stars but covered in chocolate. They are wapped up in golden tin foil. They are about 5 square inches and 4 centimeters thick. Some are stuffed with caramel and nuts or other fillings. There is also a blueberry chocolate version of it. They are quite popular and originated in 1974 and have sold several millions. They started when a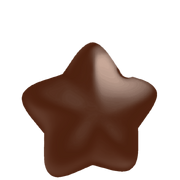 Puffball named Jake Almond looked at a Warp Star and thought of what it whould be like as a choclate treat. They have even found out how to make it out of yarn to give Patch Land a taste! The recipe was also given to the following planets: Ripple Star and Halacranda.