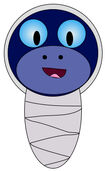 Dilli is a newborn baby creature. It is unknown what he is, since he's wrapped up in a blanket.
Nearly all of Dilli's history is unknown, but here is the only known history. He was found by Jane and Kirby when they were walking. He was on the ground, crying, and Jane felt sorry for Dilli, since he was seemingly orphaned. Kirby decided to adopt Dilli, and he and Jane are caring for him. In the Dilli's Power RP, it was discovered Dilli had psychic powers. Dilli is also afraid of Aronus Revealing his powers.
Relationships
Edit
Kirby-Friend
Jane-Friend
Timey-Sitter/Friend
Aronus-Enemy
All others-Neutral
Dilli is similar to a newborn Keronian.